Wind Surf Cruise Review
Page 8
Continued from page 7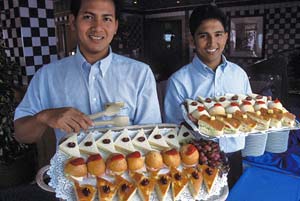 ABOVE: Waiters show off pastry selections at afternoon tea.
Crew and service
Windstar Cruises used to be a subsidiary of Holland-America Line, and it follows HAL's tradition of using mostly British and Dutch officers. Serving and housekeeping staff are largely from the Philippines and Indonesia, and the cruise staff on my voyage were Americans and Europeans.
Officers. Captain Mark Boylin, master of the Wind Surf during my cruise, is a genial Englishman who sounds like a BBC announcer and could easily be cast in a movie role as a British naval officer. His second-in-command on the passenger side, hotel manager Robert De Carlo, was an Australian who obviously loves his job. (After a port call in Amalfi, Mr. De Carlo proudly pointed to the oversize lemons that he'd bought in a local market to decorate the Veranda restaurant's buffet line.)
Several of the officers on my voyage were women, including a young deck officer from Aberdeen and the ship's doctor (an American emergency physician who spends two months a year at sea). All were polite when I visited Wind Surf's bridge, and one--the young Aberdonian--went out of her way to explain the ship's operations.
Crew. If I had to pick two words to describe the housekeeping, restaurant, and housekeeping staff, I'd choose "friendly" and "warm." The waiters, bartenders, and stewards on my voyage were courteous without being stuffy, and many--presumably those who'd been on the Wind Surf for a while--were as comfortable with passengers as they were attentive.
The reception staff were a bit more formal, but the receptionist on duty didn't snicker when I showed up in my bathrobe after locking myself out of my cabin on the last night of the cruise. (Next time I'll remember to put the keycard in my pocket when I set my luggage in the hall at midnight.)
Tipping. Windstar has a "tipping not required" policy, which simply means the crew can't have their hands out and there's no formal tipping procedure. However, it's good form to tip your cabin steward, and I'd suggest leaving cash at the reception desk to be distributed among the foodservice and bar staff. (If you prefer, you can tip your favorite waiters and bartenders directly. Gratuities are not added automatically to bar bills.)
Windstar's official currency is the U.S. dollar, so tip in greenbacks unless euros are the only banknotes in your wallet. (Minor gripe: The reception desk doesn't change money. I'd suggest getting local currency from an ATM at the airport so you'll be prepared for your first trip ashore.)
Next page: Is Windstar for you?
---
---
---
---