Wind Surf Cruise Review
Page 2
Continued from page 1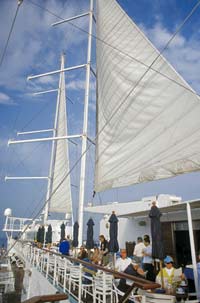 ABOVE: The Wind Surf's sails aren't just for decoration--they add speed and save fuel.
The ship
The Wind Surf is a small ship by today's standards, with a rated capacity of 308 passengers. Its nominal size is 14,745 gross registered tons, or about one-tenth the tonnage of the Queen Mary 2. (However, Wind Surf is large for a motorsailing vessel; Windstar's other ships with sails, Wind Star and Wind Spirit, carry 148 passengers each and are rated at only 5,350 grt.)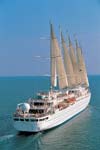 Layout. In profile, Wind Surf is reminiscent of ocean vessels from an era when sail was giving way to steam. Most of the ship's volume is inside the hull, with the superstructure being overshadowed by the five masts and seven triangular sails. And what the Wind Surf lacks in balconies, it makes up for in open deck space: Even on our nearly sold-out voyage, it was always possible to find lounge chairs and stretches of railing away from other passengers.
Sails. The sails are what make Wind Surf different from most cruise ships, and for that matter, from conventional motorsailing yachts. The 26,881 square feet or 2,600 mē of Dacron sails are deployed and furled under computer control from the bridge, with massive steel booms swinging out to the port or starboard according to wind conditions. (In a stiff wind, the sails add a good three knots to the Wind Surf's maximum speed, and the ship can travel under sail alone when wind conditions and the itinerary make it practical to shut down the propellers.)
Overall ambience. Wind Surf will never be mistaken for a Marriott, a Hyatt, or the Mall of America. It looks like a ship, feels like a ship, and cruises like a ship (albeit a modern ship with stabilizers). It also has a casual atmosphere: Men needn't bring neckties or jackets, and women can leave their cocktail dresses at home.
Next page: Wind Surf staterooms
---
---
---
---