By Durant Imboden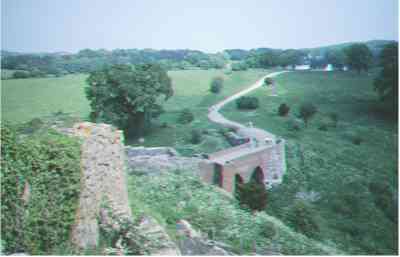 ABOVE: Denmark's only Gothic bridge, from the ruins of the archbishop's fort at Hammershus.
Bornholm's sights and sites
The easiest way to see the sights on Bornholm is to choose an itinerary and stop off at everything of interest along the way. Bornholm--the green guide has a nice selection of do-it-yourself tours, or you can make up your own itineraries as you go along.
A few of Bornholm's high points include:
Round churches. Bornholm has four round churches that once served as fortresses when the congregants weren't being born, baptized, or buried. They're well worth visiting, both for their historical interest and handsome interiors.
Å-Kirke. The island's largest church is in Å-ker Parish, which is surrounded by downtown Åkirkeby. It's an attractive church with a castle-like tower that was clearly built for defensive purposes, with its narrow windows and massive walls.
Dueodde. The beaches and dunes of southeastern Bornholm once supplied the white sand for Europe's hourglass industry. The Baltic's lakelike water (with its low saline content and warm-weather algae) may be disappointing to ocean surfers, but the beach is lovely and you'll find accommodations and restaurants nearby. Don't miss the view from the lighthouse.
Hammershus. This fortress is at Bornholm's northwestern corner, where it defended the island at various times from the mid-13th Century through the 1600s.
Joboland Braendesgårdshaven. If you're traveling with children, you'll need to spend half a day at Bornholm's unassuming but pleasant amusement park. (See photo at top of page.) It has a boating pond, an aerial cable ride, a parent-powered roller coaster, a challenging hillside playstructure, and plenty of other wholesome activities for kids and grown-ups. The cafeteria serves better food than you'll get in most theme parks.
Allinge-Sandvig. The two towns run together, forming the busiest tourist center outside Rønne. Allinge has some good restaurants and shops; Sandvig, up the road, has an indoor salt-water swimming pool with hydraulically generated surf and a view of the Baltic through large windows.
Gudhjem. Fishermen still bring in herring, Baltic salmon, and other species at Gudjhem, which has been a fishing port since the Middle Ages. The town was more important in Hanseatic times than it is today, but it's still popular with visiting artists and fans of Bornholm smoked herring (which got its start in Gudjhem).
Rønne. Don't just rush through the capital on your way from the ferry. It's an appealing town with many shops and several interesting museums, including Erichsens Gård (shown above). Be sure to visit the Bornholm Welcome Centre near the ferry terminal to pick up brochures and maps.
Christiansø and Frederiksø. The "pea islands" lie 20 km (13 miles) off Svaneke, where they've served as Denmark's easternmost military outposts since 1684. The extensive fortifications and gun batteries are still there, and you can visit them by taking a passenger ferry from Gudhjem or Allinge.
Next page: Bornholm Web links
---
---