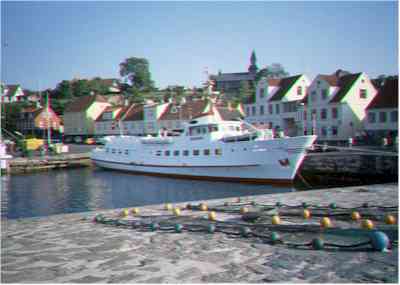 ABOVE: Christiansø's passenger ferry in Allinge harbor
Many Bornholm tourism sites are in Danish or German. If you visit Bornholm, don't give too much thought to language problems. Most Danes speak some English, at least in places like tourist offices, hotels, banks, and ferry terminals.
Tourist information
Destination Bornholm
Plan your visit with the island's official tourism site.
Bornholm.net
Sorry, no English spoken here--but the photo pages are worth your time, and you may be able to figure out much of the rest even if you don't speak Danish or German.
Excursion
Christiansøfarten
From Gudhjem or Allinge, catch the boat to Christiansø and neighboring Frederiksø for an excursion into 17th Century Danish history.
Amusement park
Joboland Brændesgårdhaven
You don't have to be young to enjoy this family-oriented theme park in a garden setting, but you'll enjoy it even more if you've brought a child or two. In Danish and German.
Events
Snogebaek Harbour Festival
Fun for the whole family in mid-July, with food, drink, and activities supplied by more than 500 local volunteers.
Transportation
Bornholm Ferries
Bornholm's car and passenger ferries are clean, comfortable, and efficient, with frequent connections between Rønne (the largest town on Bornholm) and Copenhagen/Køge, Denmark and Ystad, Sweden.
Accommodation
Hotels-in-Denmark: Bornholm
The listings here are in German or Danish, but the photos and prices don't require translation.
Dueodde beach house
Kennet Hansen will rent you this beach house at the Dueodde Ferieby, a family-oriented vacation village. He also provides sightseeing advice and photos.
Odds and ends
Bornholm flags
Of the two flags shown, the top one is the flag most commonly seen in Bornholm. (And the green is usually a darker green than the color you'll see on your monitor.)
---
---