Bruges: 3-Star Hotels
From: Bruges/Brugge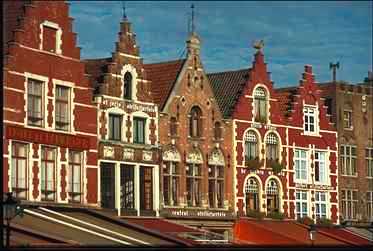 ABOVE: Bruges is filled with gabled houses, many of which have been turned into hotels.
Gasthof Groenhove
Bicycles are available for guests at the Groenhove, which is within biking or walking distance of the town center. Breakfast is served on a glassed-in veranda overlooking the garden. Rooms include singles, doubles, twins, quads, and family rooms, all with DSL Internet connections. Parking is available, and dogs are allowed.
Hotel Bryghia
In the late 1400s, this house was built for Dutch merchants who came to Bruges to trade. Their coat of arms, a gift from Frederik III, is still displayed on the 18-room hotel's fašade. The hotel is in the city center, five minutes from the Market Square, and has free car parking outside.
Grand Hotel du Sablon
Several 16th Century buildings were joined to create this 34-room hotel, which has a 1908-vintage stained-glass dome over what was once a courtyard.
Hotel Egmond
All 8 bedrooms have garden views at the Egmond. The hotel occupies an historic mansion next to the Minnewaterpark.
Hotel Hans Memling
The Memling is 150 meters from the Grand-Place or main square of Bruges and 100 meters from an indoor parking garage. It offers 36 rooms, plus a bar and a garden terrace. Pets are welcome.
Hotel Jacobs
Triple rooms are available at the Jacobs, and public parking is a few steps away. The hotel allows dogs.
Hotel Karos
Dogs are welcome at this hotel between the railway station and the town center.
Hotel 't Koffieboontje
The decor is modern at this hotel near the Grote Markt. Some of the rooms are in an annex where guests are offered free bicycles during their stays.
Hotel Maraboe
The Maraboe is a family-run hotel with private bathrooms, parking, and free Wi-Fi for guests.
Next page: 2- and 1-star hotels in Bruges
---
---