Europe > Castles
Castles of Europe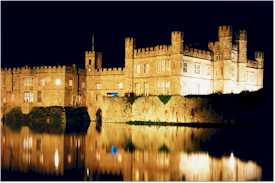 ABOVE: Leeds Castle in Kent, England.
By Durant Imboden
Europe has more historic castles than North America has White Castles or Burger Kings. For every World's Largest Rutabaga or Paul Bunyan statue in the United States and Canada, there are probably a dozen castles in Europe--many of which have been standing, in one form or another, for more than a thousand years.
Some castles are ruins; others are schools, youth hostels, or government buildings; still others are private homes; and many are open to the public as tourist attractions or hotels.
In this article, we'll point you toward Web resources to help you plan castle visits during your next European trip.
Tip: The biggest and most famous castles can be overrun by tourists during the peak summer season, so don't feel guilty about skipping them and heading for lesser-known castles that the mass-market bus tours pass up. After all, the big-name castles will still be there on your next trip, which--with luck--you can schedule for May, early June, or September, when most castles are open to visitors but aren't unpleasantly crowded.
---
Background reading:
Life in a Medieval Castle
This article is from the book of the same name by Joseph and Frances Gies.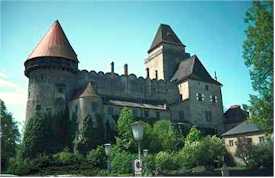 ABOVE: Heidenreichstein, Lower Austria.
The World of Castles
This searchable site is packed with photos and brief descriptions of castles in France, Germany, Ireland, Italy, Spain, and the United Kingdom, with links to the castles' own official Web sites. (You can limit your search by country and region, which makes the site handy for trip planning.)
Castles.info
This site focuses on Continental Europe, with a slight skew toward Central and Eastern European countries.
Castles.nl
Marko, a police detective in Rotterdam, launched his first site in 1999 with descriptions of seven Dutch castles. Today, Castles.nl covers dozens of castles in 22 countries.
Exploring-Castles.com
Edd Morris, who lives in the Elephant & Castle area of central London, has put together a delightful compendium of castle photos and descriptions in the UK and Continental Europe. The site includes an introduction to castle design.
---
Castle links by Country: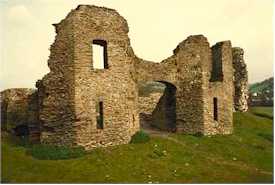 ABOVE: Newcastle Emlyn, Wales.
Austria
Heidenreichstein austriaforvisitors.com
Tour the moated castle, explore the Moorland and Peat Bog Museum, and take a ride on the historic narrow-gauge railroad in Lower Austria's Waldviertel.
Belgium
Eupedia's Belgium Guide: List of Belgian Castles
Some 300 of Belgium's 3,000+ castles are open to the public as museums, hotels, restaurants, or reception venues.
Germany
Wartburg Castle europeforvisitors.com
Martin Luther used Eisenach, Germany's historic castle as a hiding place during the early days of the Reformation.
Wikipedia: List of castles in Germany
The free online encyclopedia has links to castle pages and regional castle pages (such as "Castles in Bavaria").
15 Best Castles in Germany
This article from The Crazy Tourist consists mostly of photos with captions. Unfortunately, the listings don't include Web links.
Ireland
Wikipedia: List of Castles in Ireland
Many of the articles linked from this page are barely more than stubs, but some are full-fledged entries with detailed text and photos. Also see List of Castles in Northern Ireland.
Italy
Castellitoscani.com
Visit the "medieval heart of Italy" with P. Ramponi's Castles of Tuscany site.
Wikipedia: List of Castles in Italy
The blue links on this page point to Wikipedia pages about specific castles. Ignore the orange links, which will take you to useless placeholder pages.
Luxembourg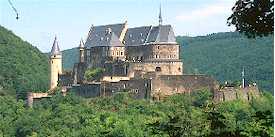 ABOVE: Vlanden Castle, Luxembourg.
Wikipedia: List of Castles in Luxembourg
Luxembourg may be small, but it has at least a hundred castles (including medieval McMansions and private manor houses).
Poland
Castles.info: Poland
The Polish section of Castles.info has quite a few listings (mostly short and unaccompanied by links). Also see Castle.info's pages on Croatia, Estonia, Slovakia, and Slovenia.
Portugal
Pena National Palace europeforvisitors.com
The PalŠcio da Pena in Sintra, Portugal is billed as "a consummate specimen of Portuguese romantic architecture," with building styles that range from Moorish to pseudo-medieval.
Best Castles in Portugal
Forty-four Portuguese castles were listed on this page from All About Castles the last time we checked. Listings include photos with descriptions and hours of admission. The page doesn't have Web links, but it does include a Google map with markers.
Spain
The Alhambra europeforvisitors.com
Anders Imboden gives advice on touring Granada's Moorish fortress, the Generalife, and the palace of Charles V in this five-page illustrated article.
Best Castles in Spain
This page from All About Castles lists 42 properties with photos, descriptions, and brief visitor information. There's also a Google map with markers (but no Web links).
Switzerland

ABOVE: The Ch'teau de Chillon in Montreux, Switzerland.
Castle of Chillon switzerlandforvisitors.com
Lord Byron made this ch'teau famous with his poem, "The Prisoner of Chillon," and its dungeons have been chilling the hearts of tourists ever since.
Thun and Its Castle switzerlandforvisitors.com
If you're traveling from Bern to Interlaken or vice versa, stop off in Thun and visit its turreted castle to enjoy lovely town and lakeside views.
United Kingdom
Dover Castle europeforvisitors.com
Explore 2,000 years of English history atop the White Cliffs of Dover. The castle's attractions include a medieval keep, a battlements walk, and a tour of WWII's Secret Wartime Tunnels.
Tower of London europeforvisitors.com
Britain's most famous castle is also a top tourist attraction. While you're in London, hop on a suburban train to visit Hampton Court Palace, which is less crowded and equally interesting.
Wikipedia: Castles in Britain and Ireland
This lengthy article has background information plus listings of individual castles (with many links to related articles). Also see List of Castles in Scotland, List of Castles in Wales, List of Castles in Northern Ireland, and List of Castles in the Isle of Man.
The Castles of Wales
Jeffrey L. Thomas started this comprehensive site in 1995, and it's grown to more than 400 pages and 450 photographs.
---
Castle Hotels and Rentals:

ABOVE: Dunvegan Castle, Isle of Skye.
Directories
Celtic Castles
This agency has been around since the late 1980s. It represents dozens of properties in the UK and Western Europe, both for accommodation and destination weddings.
Haunted Rooms
Why share a hostel dormitory with strangers when you can share a castle or hotel room with a ghost? "The UK and Ireland's largest directory of haunted accommodation" also has information about other haunted places such as hospitals, asylums, and pubs.
Paradores de Turismo de EspaŮa
Many of Spain's paradores are in renovated castles, monasteries, and other historic buildings. They tend to be slightly upscale but cheaper than comparable luxury hotels.
Pousadas de Portugal
Like Spain's paradores, the pousadas of Portugal are often housed in historic buildings. Each inn reflects the decor, culture, and cuisine of its region.
The Castle in an Other Country
This glitzy site has lavishly-illustrated descriptions of castle hotels in Austria, Croatia, the Czech Republic, Germany, Hungary, and Italy.
Individual Castle Hotels & Rentals
Hampton Court Palace: The Georgian House
Britain's Landmark Trust operates this highly desirable rental property on the grounds of Hampton Court Palace near London. The three-story house was built in 1719 as a royal kitchen. Today it has four bedrooms, two bathrooms, and beds for eight guests. Minimum stay is four nights, and your visit has to begin on a designated "changeover day."
Amberley Castle
"The only medieval fortified castle in England where you can spend the night" has a working porticullis that is lowered at bedtime. The castle, now a luxury hotel, is about an hour from London by train.
Kinlochmoidart House
Bring up to 17 relatives or friends along when you stay at this baronial house near Loch Moidart on the West Coast of Scotland. Rates include logs for the open fireplaces.
Schloss Wasserburg
Rent a 10-bedroom Austrian castle in Pottenbrun, 45 km (28 miles) from Vienna.