Castles of Europe
Page 4
Continued from page 3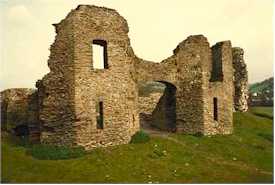 ABOVE: Newcastle Emlyn, Wales.
Castle Sites by Country: A-M
Austria
Heidenreichstein austriaforvisitors.com
Tour the moated castle, explore the Moorland and Peat Bog Museum, and take a ride on the historic narrow-gauge railroad in Lower Austria's Waldviertel.
Belgium
Eupedia's Belgium Guide: Castles of Belgium
Some 300 of Belgium's 3,000+ castles are open to the public as museums, hotels, restaurants, or reception venues.
Germany
Roads to Ruins
Explore the medieval fortifications of Germany with Edward G. Kane.
Rheinland-Pfalz
Learn about 17 state-owned castles and monuments in the Rhineland-Palatinate.
Wartburg Castle europeforvisitors.com
Martin Luther used Eisenach, Germany's historic castle as a hiding place during the early days of the Reformation.
Ireland
Wikipedia: List of Castles in Ireland
Many of the articles linked from this page are barely more than stubs, but some are full-fledged entries with detailed text and photos.
Italy
Castellitoscani.com
Visit the "medieval heart of Italy" with P. Ramponi's Castles of Tuscany site.
Next page: Countries N-Z
---
---