Castles of Europe
Page 5
Continued from page 4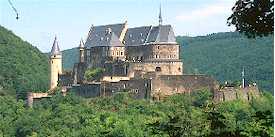 ABOVE: Vlanden Castle, Luxembourg.
Castle Sites by Country: N-Z
Poland
Castles.info: Poland
The Polish section of Castles.info has quite a few listings (mostly short and unaccompanied by links). Also see Castle.info's pages on Croatia, Estonia, Slovakia, and Slovenia.
Portugal
Pena National Palace europeforvisitors.com
The Palácio da Pena in Sintra, Portugal is billed as "a consummate specimen of Portuguese romantic architecture," with building styles that range from Moorish to pseudo-medieval.
Spain
Castles of Castile and Léon
This site isn't pretty, but it covers the basics and has links to official sites for castles in Spain. (Note: This site will open in a new browser window.)
The Alhambra europeforvisitors.com
Anders Imboden gives advice on touring Granada's Moorish fortress, the Generalife, and the palace of Charles V in this five-page illustrated article.
Switzerland
Castle of Chillon switzerlandforvisitors.com
Lord Byron made this château famous with his poem, The Prisoner of Chillon, and its dungeons have been chilling the hearts of tourists ever since.
Thun and Its Castle switzerlandforvisitors.com
If you're traveling from Bern to Interlaken or vice versa, stop off in Thun and visit its turreted castle to enjoy lovely town and lakeside views.
United Kingdom
Dover Castle europeforvisitors.com
Explore 2,000 years of English history atop the White Cliffs of Dover. The castle's attractions include a medieval keep, a battlements walk, and a tour of WWII's Secret Wartime Tunnels.
The Castles of Wales
Jeffrey L. Thomas started this comprehensive site in 1995, and it's grown to more than 400 pages and 450 photographs.
Next page: Castle hotels, rentals
---
---