"CHOCOLATE MUSEUMS" Page 1, 2, 3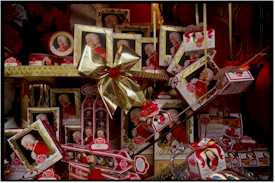 ABOVE: Mozart Kugeln chocolates on display in Salzburg.
Belgium
Musée du Cacao et du Chocolat, Brussels
The Cocoa and Chocolate Museum offers historical exhibits, videos, live demonstrations, chocolate samples, and a shop where you can buy edible souvenirs of your visit. Location: Maison des Ducs de Brabant, Grand Place 13, Brussels.
England
Cadbury World
A family-oriented chocolate theme park and factory tour in Bourneville, England, just south of Birmingham. Admission isn't cheap, but free chocolate bars are handed out during the tour.
France
Planète Musée du Chocolat, Biarritz
Learn about the history and production of chocolate in the elegant seaside resort of Biarritz. The museum has antique chocolate-making tools, a machinery room that recreates the atmosphere of an old chocolate factory, and a "Chocolate Show" with "hot chocolate tasting and convivial talk about secrets and virtues of chocolate."
Germany
Imhoff Stollwerk Chocolate Museum
(This badly-designed site will open in a new browser window.) "The World of Chocolate" has attracted chocoholics to Cologne since 1993. Attractions include historical exhibits, a two-story production area, a chocolate fountain (drinks permitted), and a restaurant overlooking the Rhine River. If you don't read German, you can translate at FreeTranslation.com.
Italy
Next Page > More museums > Page 1, 2, 3