Dover Castle
Page 2
Continued from page 1
By Durant Imboden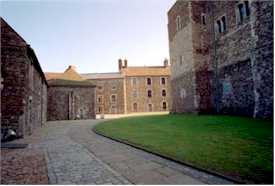 ABOVE: The yard of the Great Keep at Dover Castle.
Henry II's Keep
As you walk up the hill to the Great Keep, you pass through the inner walls of the castle. When you emerge in the Keep Yard (see photo), you'll find several attractions that you can enjoy if you have time:
The 1216 Siege Experience. This 12-minute "sound and light presentation" chronicles the prolonged siege of Dover Castle by French troops, who had been asked to invade England by rebellious barons who wanted to dethrone the tyrannical King John. The French Dauphin (later to become Louis XIII) gave up his attempts to conquer and hold England, in part because King John died and was succeeded by Henry III during the siege.
A Castle Fit for a King. When King VIII came for a brief stay at the castle in 1539, the preparations rivaled the excesses that are typical of a state visit by a world leader today. Step inside the Keep to see a recreation of those preparations, which--among other things--required unpacking hundreds of trunks and arranging the king's own furniture.
The Princess of Wales's Royal Regiment and Queen's Regiment Museum. Displays give an idea of Army life from 1572 through modern times.
If you have time for nothing else, walk through the Keep's rooms and climb up to the roof, where you'll enjoy a spectacular view of the castle grounds, the English Channel, and--on a clear day--the French Coast. (See photos on page 3 and page 5.)
Another option is a visit to the Medieval Tunnels, or casemates, that were built in the 12th Century and altered in the late 1700s to help defend against a possible invasion from France.
Next Page > Secret WWII Tunnels - Page 3
---
---