Dover Castle
Page 3
Continued from page 2
By Durant Imboden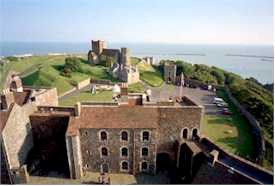 ABOVE: View from the roof of Henry II's Keep at Dover Castle, with the English Channel in the background. The Secret WWII Tunnels extend inland from the cliffs overlooking the sea.
Secret World War II Tunnels
One of Dover Castle's most popular attractions is the network of Secret Wartime Tunnels that were used to coordinate the evacuation of Dunkirk and direct South East England's coastal defenses in World War II.
The tunnels were an expansion of the existing casemates, or underground barracks, that had been carved beneath Dover Castle and its grounds in the early 19th Century. By the end of the war, they occupied three levels. Two levels are now accessible to tourists. They include an underground hospital, barracks, telephone exchanges, operations rooms, and other facilities used by forces under the command of Vice-Admiral Bertram Ramsay. The tunnels remained in use by the military until the early 1960s.
In the first part of the 55-minute tunnel tour, you walk through the hospital while loudspeakers play the sounds of soldiers talking and bombs exploding overhead. Lights flicker and dim as you hear a surgeon try to save a pilot's leg in the primitive operating theatre. There's no narration; everything is told through the realistic exhibits (including gurneys with bloody sheets) recorded conversations, and sound effects.)
The last half of the tour is more conventional, with an expert guide describing your surroundings and answering questions as you explore the Command Centre, the Anti-Aircraft Operations Room, the Telephone Exchange and Repeater Station, and other rooms.
The tour includes a short documentary film about the evacuation of Dunkirk in 1940, when authorities hoped to rescue 45,000 soldiers who were trapped in German-occupied France. In the end, 388,000 troops were ferried home during the nine days of "Operation Dynamo," which was coordinated by Sir Winston Churchill and Vice-Admiral Ramsay in the tunnels behind Dover's cliffs.
Next Page > Visitor Information - Page 4
---
---