Dover Castle
Page 4
Continued from page 3
By Durant Imboden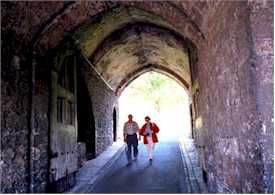 ABOVE: The Cannon's Gateway entrance leads through massive outer walls.
Visitor Information
Visiting times: The castle is open daily except for December 24-26. Hours vary according to the season, from 10-4 in winter to 9:30-6:30 in July and August. Give yourself plenty of time for a visit, especially on weekends when demonstrations of archery, knightly skills, siege tactics, World War Il activities, and other special events may be on the calendar.
How to get there: Dover Castle on the east side of Dover, a short walk or drive uphill from the town. It's 1.5 miles or 2.4 km from the Dover Priory railroad station; from there, you can connect to the castle on bus 90, 91, or 111 of Stagecoach East Kent.
If you're visiting from the Cruise Terminal (which is at the far end of the harbor), I'd suggest hiring a taxi in one direction and walking back via the town center. Allow about half an hour for the return walk, or longer if you're tempted by the downtown shops and museums or the De Bradelei Wharf outlet mall.
Note: There are two main entrances to Dover Castle--the Cannon's Gateway entrance, which leads to the car park; and the more impressive Constable's Gatway, which is an easy uphill walk from the coach drop-off point on the road beneath the castle.
Ticket prices: Admission costs around 10 pounds for adults, with lower concession and children's rates. The castle offers a money-saving family ticket for two adults and up to three children under 16.
Prices include admission to the Secret Wartime Tunnels. (TIP: Reserve your tunnel tour upon arrival to avoid a long wait during busy times.)
Audio tours: You can rent 45-minute audio tours of the Medieval Tunnels and Battlements Walk at the Keep Yard Shop; hearing loops are available for the hearing-impaired.
Food: The castle restaurant is open year-round, and the Tunnel Café next to the Secret Wartime Tunnels gift shop is a handy place to enjoy a cup of tea and a sandwich or a slice of cake while you wait for your tour to begin. Or bring a picnic if the weather is fine.
Land Train. A free open-air shuttle operates most days, stopping at five places around the castle's 70 acres of grounds.
Wheelchair access: Paved walks connect the various parts of the castle, although some are rather steep. (Ask for an electric wheelchair in the Keep Yard Shop.) Wheelchairs are allowed in the Secret Wartime Tunnels, where an elevator connects the two levels open to visitors.
For more information: Visit the English Heritage: Dover Castle Web page.
Next Page > Photos - Page 5
---
---