Driving in Europe
Page 3
Continued from page 2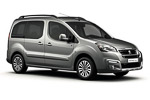 ABOVE: The Peugeot Partner is a popular crossover vehicle in Europe.
Related articles
Car Rentals: When to Rent, When to Lease europeforvisitors.com
Use the comparison chart in this article to help determine whether you should consider a traditional car rental or a short-term lease.
Rental-Car Insurance europeforvisitors.com
Do you need liability insurance in Europe? Should you pay extra for a Collision Damage Waiver, or can you rely on your credit card's free coverage? This Europe for Visitors article has the answers.
Car or Train? europeforvisitors.com
Should you tour Europe on four wheels or ride the rails? Use this quiz and related resources to make a wise decision.
International Driving Permit europeforvisitors.com
The IDP is an official document that certifies the validity of your home driver's license in 150 countries. (But beware of so-called "International Driver's License" scams.)
Europe by Van and Motorhome europeforvisitors.com
Relive the '60s in a VW van or cruise the Continent in a land yacht.
General information
Moto Europa
Erick Bredesen's Moto Europa is a guidebook for car, van, motorhome, and motorcycle travelers. The Web version of the book is geared toward U.S. drivers, but other non-Europeans will also find it helpful.
European International Road Signs and Conventions
The interface may be more confusing than a Parisian roundabout, but be patient--and scroll down for links to pages on traffic signs.
Which Side of the Road Do They Drive On?
Brian Lucas describes his informative and entertaining article as "an attempt to list which side of the road people drive on around the world, and to find some reasons why." (Wikipedia's Right- and left-hand traffic page also covers this topic in detail.)
Motorcycling
Beach's Motorcycle Adventures
This company has more than 30 years of experience in conducting European tours on BMW motorcycles.
Next page: Driving links by country
---
---
---
Photo copyright © Peugeot.