Driving in Europe
Page 4
Continued from Page 3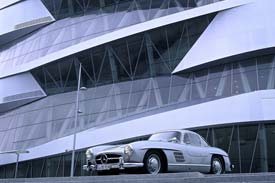 ABOVE: A classic Mercedes 300SL gullwing sports car outside the Mercedes-Benz Museum in Stuttgart, Germany.
Country Information
France
Driving in France
Jeff Steiner, an American resident of Strasbourg, wrote these pages for Americans in France.
Car Tourism in Germany
Read our articles about car museums and factory tours, a high-speed "race taxi," a self-drive "Trabi Safari" tour in Dresden or Berlin, and more.
Autobahn Online
If you can't read the German text, try The Autobahn, from Brian's Guide to Getting Around Germany, and Hyde Flippo's The Autobahn from The German Way and More.
Tank & Rast
See what facilities are available at the 338 gas stations, 382 service areas, and 51 hotels on Germany's Autobahn network.
Greece
Driving in Greece
DeTraci Regula's article, subtitled "Frenzy and Freedom," is at gogreece.about.com.
Italy
Autostrade S.p.A.
Use the journey planner to design an itinerary or check traffic conditions at the official Italian motorway site, where you'll also find a handful of articles in English.
Driving in Italy
Joseph F. Lomax wrote this article for InItaly.com.
Portugal
Driving in Portugal
Learn basic rules, regulations, and other facts from Portugal-info.net.
Spain
Driving and Motoring in Andalucia
Most of this advice from Andalucia.com is applicable to Spain as a whole.
Switzerland
Driving in Switzerland switzerlandforvisitors.com
This article is from our Switzerland for Visitors subsite.
United Kingdom
Visiting Britain: Car Travel, Car Hire, British Roads
Get information on license requirements, car insurance, traffic rules, and motor fuel in the UK.
Next page: Route planners, where to get a car
---
---
---
Photo copyright © Daimler.