Driving in Europe
Page 5
Continued from page 4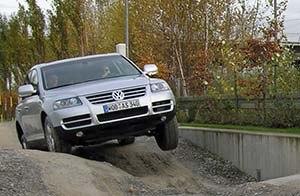 ABOVE: You can drive a VW Touareg on the off-road course at Volkswagen's Autostadt in Wolfsburg, Germany.
Route planner
ViaMichelin
Use the "Driving Directions" form to plan your trip, or request an online map from the ViaMichelin database.
Rental and short-term leasing firms
The following companies are partners of Europe for Visitors. (Note: "Buy Backs" or short-term tourist leases are likely to be your best value if you reside outside the European Union, are driving in Europe for at least 17 days, and are able to use the car company's pickup and drop-off locations.)
Auto Europe
Rent a car in any of 4,000+ locations, with guaranteed low rates for equivalent cars.
Peugeot Open Europe "Buy Back" Program
Competitive rates, no hidden insurance costs, a minimum driver age of 18, no maximum age, and a wide choice of car models make this short-term leasing program a good bet if you'll be driving in Europe for at least 21 days.
Rail Europe
Rail 'n Drive Passes combine rail travel with a car rental, so you can share your driving duties with a locomotive engineer.
Back to: Driving in Europe - Introduction
---
---
---