Eisriesenwelt ice caves
Werfen, Land Salzburg - Page 2
Continued from page 1
By Durant Imboden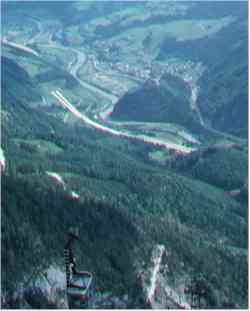 How to reach the Eisriesenwelt
By car. On the A10 motorway, drive about 40 km (25 mi) south from Salzburg to Werfen, then follow the signs for Eisriesenwelt. The parking lot is about 5 km (3 mi) northeast of the town.
By train. Buy a ticket for Werfen. From the Werfen train station, you can catch a bus or van to the Eisriesenwelt parking lot.
Once you've reached the parking lot, you'll walk about 15 minutes to the Wimmer Hütte, where you'll find the lower station of an aerial cable railway. A 15-passenger gondola will whisk you up the mountain face to the Dr.-Oedl Haus, a pleasantly old-fashioned Gasthaus where you can get a drink, a snack, a meal, or a simple room for the night.
From the Dr-Oedl Haus, it's another 15-minute walk to the cave entrance.
Although the cave tour itself lasts only 75 minutes, you should allow three to five hours for the complete trip from Werfen.
What it'll cost you
A combined cablecar/cave ticket is priced at €16 for adults, €14.50 for members of mountaineering or caving clubs, and €8 for children of 14 and under. You can save money by hiking up and down the mountain or taking the cablecar in just one direction.
Related Web sites