"KAREN BROWN INTERVIEW" Page 1, 2, 3, 4, 5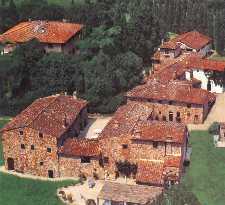 ABOVE: The Fattoria La Loggia in Montefiridolfi, Tuscany is featured in Karen Brown's Italy: Charming Bed & Breakfasts.
Q. Tell me how you go about researching a guidebook, from picking the hotels to reinspecting them.
With the first book, I literally drove the roads and talked to people, looking for inns to write about. Today, I have to think about time and family pressures, and travel is more expensive. So I do a lot of research before going overseas. Reading guidebooks and articles is part of that, but the best sources of information are readers and innkeepers who tell us about new places that have opened.
Also, I no longer research the books by myself. There are now three of us, including Clare Brown (my mother) and June Brown (no relation), who handles the British Isles.
When we go on our research trips each spring, we're almost 100% certain about the places we'll include. We inspect new places carefully, and we reinspect old properties to make sure they haven't slipped. Innkeepers seem to respect that, and they take pride in being listed with the best.
Q. Do you use a checklist when inspecting properties?
No, that might work for chain hotels, but it's impossible when you're inspecting family-owned owned hotels, inns, mills, and châteaux. Every property is different and has to be judged individually.
Q. What about price ranges? Do you limit yourself to certain categories of inns and hotels?
The properties that we feature are usually moderate to expensive, because our readers are mostly looking for the best experiences they can find. But we cover a wide range, from simple little places for $50 a night to hotels that cost $1,000 a night.
Next Page > Karen Brown vs. the big guys > Page 1, 2, 3, 4, 5