"KAREN BROWN INTERVIEW" Page 1, 2, 3, 4, 5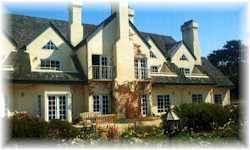 ABOVE: Karen Brown and her husband opened the 10-room Seal Cove Inn in Moss Beach, California after researching family-owned inns and hotels in Europe.
Q. Do you have any tips you'd like to share with Europe for Visitors readers?
I'd encourage people to really venture out on their own--to get that feeling of exploring, opening themselves to new experiences, and breaking the ice with phrases they remember from their high-school language classes.
Also, travelers should settle in for a couple of nights instead of packing and unpacking every day. Travel is so much more relaxing and enjoyable when you get to know the local people and the other guests. The most rewarding travel experience isn't just sightseeing with your guidebook--it's getting out on country roads, staying in inns, and meeting people from all over world.
Related Web sites
KarenBrown.com
Browse the Karen Brown guidebook library, view sample hotel reviews and itineraries, and communicate directly with featured properties by using a standard e-form.