Keukenhof
Page 2
Continued from page 1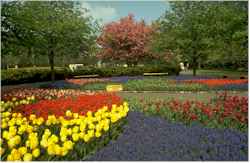 Keukenhof and Lisse Web links:
Keukenhof
The official Web site of Keukenhof has all the facts you need to plan a visit to the gardens. You can order tickets in advance from Keukenhof's Web site to avoid queues at the ticket office. (Parking tickets are also available online.)
VVV Lisse
The local government's tourism site is skimpy, but it does contain some information on what to see and do in Keukenhof's home town. If you're looking for a place to stay in Lisse, try the three-star Lounge Hotel de Duif (which is within walking distance of Keukenhof and the Black Tulip Museum) or the four-star Hotel Nachtengaal van Lisse (which is 1.3 km or less than a mile from the gardens, with bike rentals available).
From Europe for Visitors:
Floriade 2022
Holland's once-in-a-decade World's Fair of horticulture will run from April to October 7, 2022.
Amsterdam
It's only about an hour to Keukenhof from Amsterdam, the subject of this illustrated 24-page collection of annotated Web links.
Back to: Keukenhof - Introduction
---
---
---