Museu do Oriente, Lisbon
Page 3
Continued from page 2
By Durant Imboden
More photos from the Museo do Oriente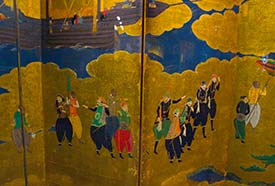 Portugal began trading with Japan soon after its explorers arrived in 1543. (See Wikipedia's Nanban trade article.) This gilded screen at the Museu do Oriente portrays a ship, Portuguese traders, and Japanese dignitaries.
You can view a larger, 800-pixel-wide version of this image (79K) by clicking here.
---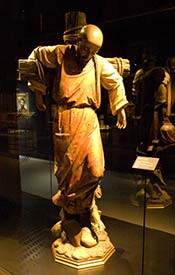 In Japan and China, Christian symbols took on a local flavor during the Portuguese missionary era.
---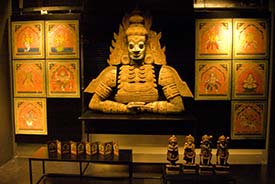 These wooden sculptures from Southern India are in the Museu do Oriente's permanent "Gods of Asia" exhibition.
---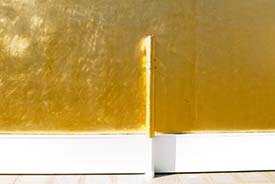 The terrace outside the Museu do Oriente's top-floor restaurant has an eye-catching feature: a long section of building wall covered in gold leaf.
Back to: Museu do Oriente - Introduction
---
---
---