Madrid-Seville AVE Trains
Page 2
Continued from page 1
By Durant Imboden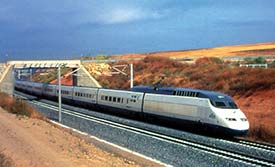 ABOVE: An AVE train speeds through the Spanish countryside.
Tickets
You can buy AVE tickets in Spanish railway stations and many local travel agencies (including those in major department stores such as El Corte InglÚs. If you live in the U.S. and are obsessive about reserving seats ahead of time, try our partner, Rail Europe, although you'll probably save money by purchasing your tickets and making reservations in Spain.
Reservations
Seat reservations are required on all AVE trains, whether you're traveling on a point-to-point ticket or a rail pass (see below). In August of 2011, when this article was last updated, reservation fee was €10 in Turista or second class and €23,50 in Preferente or first class. (The latter costs more because first-class travel includes drinks and a meal.) Reserve seats at least 24 hours, but no earlier than 62 days, before your travel date.
Tip: If you're traveling with children or in a group of four, consider reserving facing seats with a table in either Turista or Preferente class. There are only a few of these in each car, so book early if you can.
Rail passes
If you're traveling on a Eurail or InterRail pass, you won't need a ticket, but you will need a seat reservation in Clase Turista or Clase Preferente, depending on whether you have a second- or first-class pass.
Web resources
For more information about Spanish rail tickets and reservations, see the English-language Renfe Web site and Eurail's Spain Railway Information page.
To learn about rail passes that can be used in Spain, visit Eurail.com (if you live outside Europe) or InterRailnet.com (if you're a European resident).
U.S. residents can buy European rail passes and tickets from our partner, Rail Europe, which is also a good source of information about travel on more than 60 European railroads.
Back to: Madrid-Seville AVE Trains - Introduction
---
---
---
Photo copyright © Rail Europe.