Ostend (Oostende), Belgium
Page 4
Continued from page 3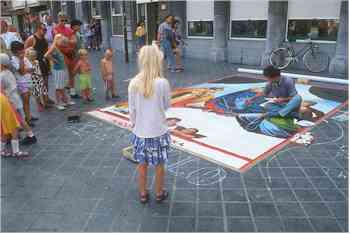 ABOVE: A pavement artist attracts a crowd in Ostend.
Museums
Historical Museum De Plate
The local history and folklore museum traces its roots to 1899. Today, the museum occupies a building where Napoleon once stayed. Hours of operation are limited, so check the Web site before visiting.
Mu.ZEE
The "art museum by the sea for Belgian art" features works from 1830 to the present. Ostend's most famous artist, James Ensor, is just one of the Belgian and foreign painters whose works are in this museum's extensive collection. The museum administers the James Ensor House, which is open to visitors.
There are many other museums and things to see in Ostend, such as the North Sea Aquarium, the Atlantic Wall (an open-air war museum), Fort Napoleon, and the three-mast sailing ship Mercator, which is open to visitors in the inner harbor. For more local museums, sights, and monuments, browse Visit Oostende's listings of Tourist Attractions.
Boating
Channel Sailing
Book a boat with or without a skipper, or learn the ropes (a.k.a. sheets) of yachtsmanship in a sailing course.
Back to: Ostend (Oostende) - Introduction
---
---