Ostend (Oostende), Belgium
Page 2
Continued from page 1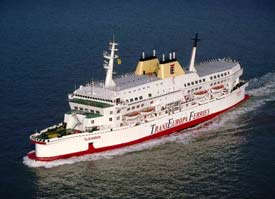 ABOVE: The Oleander, shown here, has been replaced by the Larkspur on Transeuropa's Ramsgate-Ocean route.
Tourist information
Visit Oostende
Toerisme Oostende VZW, the official tourist office for Ostend, has a good assortment of pages about activities, dining, hotels, local transportation, and other topics.
VisitFlanders.com
The Tourist Office for Flanders has general information on Belgium's northern, Dutch-speaking region.
Transportation
Transeuropa Ferries
Several daily crossings in each direction connect Oostende with Ramsgate, England, with a crossing time of about four hours. (Warning: Foot passengers aren't acceped, and pets aren't allowed on board.)
Port of Oostende
The port's Web site is useful mainly for maritime operators and shipping fans.
Belgian Railways
The SNCB (or NMBS, if you prefer Dutch) has an English-language journey planner on its Web site.
The Coastal Tram
"The Line," a local transit agency, operates an LRT system that connects Ostend with other towns and railroad stations along the Flemish coast.
Weather
Oostende, Belgium Weather Conditions and Forecast
Metric and English measurements are available at this page from Weather.com, which uses data from Oostende Airport.
Next page: Hotels, dining
---
---