Scotch Whisky Distilleries
Page 2
Continued from page 1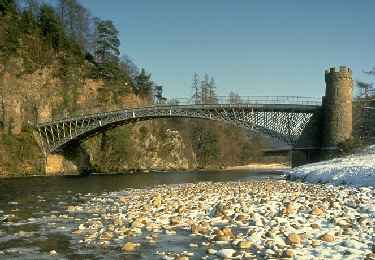 ABOVE: Craigellachie Bridge in Scotland's Spey Valley, home to nearly a dozen distilleries.
Scotch Whisky
Whiskey (whiskey)
A short introduction to Scotch whisky with book recommendations and useful addresses. From the Scottish FAQ at Siliconglen.com.
Whisky travel information
Whisky Maps
Plan your tippling tour with one of these three maps. (If you don't want to order them through The Whisky Portal's Amazon links, you can pick them up in Scotland.)
The Distillery Guide
Read the whisky information, search by brand or location, write your own distillery report, or get quick facts about distilleries open to the public.
The Edinburgh Malt Whisky Tour
Read the FAQ and other information, then click the active map for descriptions of more than 50 distilleries.
Scotland's Malt Whisky Trail
"The only malt whisky trail in the world" is for people who prefer bottles to backpacks.
Scotch Malt Whisky Society
The one indispensable guide to Scotch whisky distilleries, whether you're planning a trip or merely headed for the liquor store.
Distillery Web sites
The Famous Grouse
Several tours are on offer, with prices that are based on tasting options.
Glenfiddich Whisky
This distillery has produced single-malt Scotch whisky since 1887.
Glengoyne
Even non-drinkers will enjoy the stunning photos here. The distillery is 35 minutes from Glasgow and 70 minutes from Edinburgh by car.
Glenmorangie
Take a virtual tour of the distillery and book a room at Glenmorangie House in nearby Cadboll. (If you're visiting the Invergordon/Inverness area in August, you can enjoy a complimentary wee dram at the Tain Highland Gathering.)
Highland Park
The northernmost whisky distillery in the world offers tours year-round. The distillery, which is located in the Orkey Islands, has earned a "five-star" award from the Scottish Tourist Board for its visitor facilities. Great quote: "Wind, rain, lightning, ice, crashing waves, crushing hail, all of this--every crack of thunder, every blast of wind--goes into Highland Park. Maybe if we'd been in the Bahamas we'd have made great smoothies."
Isle of Arran Whisky Distillery
Although Scotland's newest whisky distillery opened in 1995, it uses traditional distilling methods and is situated to take advantage of water that is "cleansed by granite and softened by peat as it comes down from the mountain above." The distillery has a Visitor Centre with an award-winning restaurant.
The Macallan
Read the Guide to Whisky, listen to the MP3 Tasting Tutorials, then click "Visitor Centre" in the Distillery section for tour schedules. The distillery, in Craigellachie on the River Spey, specializes in single-malt Scotch whiskies.
Scotland tourism sites
Visit Scotland
The Scotland national tourist board's official Web site is packed with information for tipplers and teetotalers alike.
Scotland for Visitors
Read the articles, explore the links, view the picture galleries. You'll also find news headlines from The Scotsman.
Edinburgh and Lothians Tourist Board
This well-organized tourism site has information on Edinburgh and its nearby countryside and coast.
The Internet Guide to Scotland
Joanne Mackenzie-Winters wrote this 80,000-word guide, which emphasizes the Highlands and islands of Scotland.
---
---
---