Cabo da Roca, Sintra, Portugal
Page 3
Continued from page 2
More photos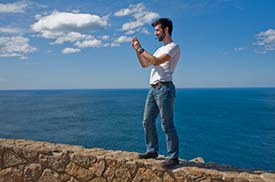 An intrepid tourist braves the wind on Continental Europe's westernmost wall.
---
Two visitors from abroad pose by the monument at Cabo da Roca.
---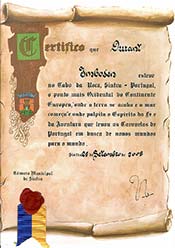 For a small fee, you can buy a dated, personalized certificate at the Cabo da Roca visitor center. The certificate confirms that you "have been to Cape Roca--Sintra, Portugal--the westernmost point in continental Europe 'where the land ends and the sea begins,' where there still reigns the spirit of Faith and Adventure which took the Portuguese caravels in search of new worlds for the world."
Back to: Cabo da Roca - Introduction
---
---
---