Cabo da Roca, Sintra, Portugal
Page 2
Continued from page 1
By Durant Imboden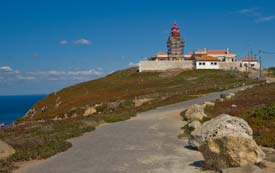 ABOVE: The lighthouse at Cabo da Roca.
Directions to Cabo da Roca
Technically, the Cabo da Roca is in the municipality of Sintra, but it's many kilometers west of that town. Here's how to reach the cape:
By public transportation: Scotturb bus 403 operates between Sintra and Cascais year-round. Travel time to Cabo da Roca is about 45 minutes from Sintra's railroad station and 25 minutes from the bus terminal in Cascais. See the Portuguese-language Scotturb Web site, click "Horários," and then click "403" for a current timetable. Please note:
CP, the Portuguese national railroad, has frequent train service on its Lisbon-Sintra and Lisbon-Cascais commuter lines, making it easy to do a circular rail and bus tour that includes a stop at Cabo da Roca. (You can do the entire trip in a day, but we suggest spending a night in Sintra so that you can enjoy the town, visit Pena National Palace, and tour Sintra's other palaces and parks.)
Passes from Eurail and InterRail are valid on CP, and the Lisboa Card includes transportation on Lisbon's suburban commuter lines. You can also buy day tickets from the railroad and the Scotturb bus company.
By car or bicycle: Cabo da Roca is just west of Azoia on the road between Sintra and Cascais. From Cascais, head north on EN 9-1 and then go left on EN 247; from Sintra, head west toward Colares on EN 247 and continue south to Azoia. A branch road, EN 247-4, covers the short distance between Azoia and the cape.
Visitor services
Cabo da Roca has a visitor center, with a restaurant and souvenir shop nearby. A path leads to the monument and the often windy scenic overlook. (See photo at top of page.)
Admission to the park is free. For more information, e-mail the Cabo da Roca tourist office at [email protected] or phone +351 219 280 801.
Souvenir alert: In the visitor center, you can buy a personalized, dated certificate (complete with wax seal) of your visit to the western tip of Europe.
Web links
Google Sightseeing: Cabo de Roca
This satellite photo offers a straight-down aerial view of the cape, the lighthouse, and the overlook. (Use the photo's zoom controls for an even closer peek.)
Trail of the Unexpected: Cabo da Roca
Eric Almonds describes an 11-km bicycle trip to Cabo da Roca from the Lisbon suburb of Cascais.
Sintra Camara Municipal
The town hall's official site doesn't have much information about Cabo da Roca, but it's a useful guide to Sintra. (If the Union Jack icon doesn't take you to the English-language site, you can translate with Google.)
Next page: More photos of Cabo da Roca
---
---
---