Sintra's Pena Palace
Page 4
Continued from page 3
More photos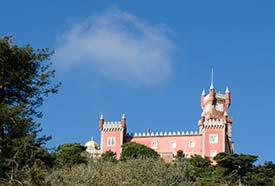 From the 16th Century porter's lodges and tourist facilities at the bottom of the hill, the Pena National Palace shows a bubble-gum pink façade to visitors.
---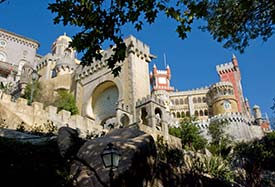 A path leads up the hill to the palace. (If you'd rather not climb, you can take a trolley-style bus.) Just beyond the main palace gate is a courtyard with WCs, a café, a gift shop, and a ticket office.
---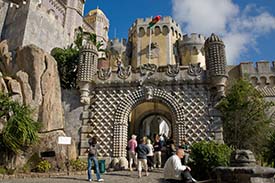 Within the castle grounds is yet another entrance gate. Dom Fernando II's coat of arms is carved into the archway.
---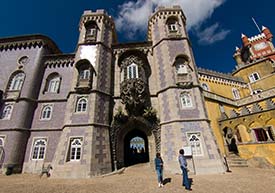 Once you're inside the castle keep, you'll have several areas to visit--among them, the gateway of the Creation with its half-man, half-fish Triton figure between two mock medieval towers.
---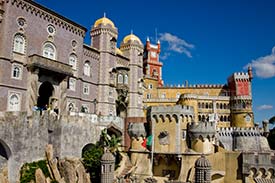 The palace's architecture is a mishmash of styles, and while it rivals Germany's Neuschwanstein for kitsch, the overall effect is far more romantic and human in scale than at Ludwig II's Bavarian fantasy castle.
---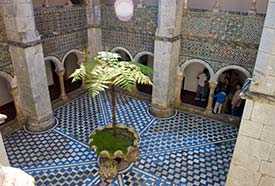 The Manueline Cloisters are the oldest part of the palace, dating back to the early 1500s. The tiled walls and courtyard have strong Hispano-Arabic influences, and the adjacent Arab Hall (built in 1854) continues the Moorish theme.
---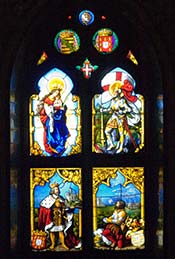 Nearby, the royal chapel (a remnant of the Hieronymite monastery that preceded the palace) has German stained-glass windows that were added in the 19th Century.
Back to: Pena National Palace - Page 1
---
---
---