Sintra's Pena Palace
Page 2
Continued from page 1
By Durant Imboden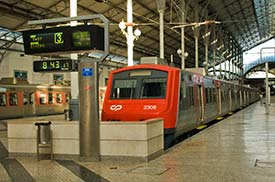 ABOVE: Commuter trains run frequently to Sintra from Lisbon's Rossio Station. INSET BELOW: A Moorish-style minaret, and a station platform sign for Sintra.

Visitor information
The Palace and Park of Pena are open every day except December 25 and January 1. Hours vary with the season, but the park and palace are normally open daily from mid-morning until late afternoon or early evening. The site is closed on December 25 and January 1.
Ticket prices: The cost of admission depends on your age, whether you're visiting the palace or only the park, and whether you're alone or with a family. You can also buy combined tickets that include one or more other parks and places in Sintra for up to two days. (If you have the Lisboa Card, you'll receive a small discount.)
Guided tours: Guided tours of the park, the palace, or both take place several times a day, and audioguides should be available by the time you read this. (The palace's rooms are less impressive than the over-the-top exterior, but they're worth seeing if you have time.)
For up-to-date information on hours, prices, and tours, check the official Parques de Sintra Web site, which is the first link on page 3 of this article.
Reaching Sintra and Pena National Palace
The Palace and Park of Pena are about 4.5 km or 3 miles from the center of Sintra.

By train: From Lisbon's Rossio Station, take the Linha de Sintra suburban train, which will get you to Sintra in less than 40 minutes. (See the CP Sintra Line timetables in Adobe PDF format or search from the railroad's home page at www.cp.pt after clicking the blue-and-red English icon at the top of the page.)
Tip: Passes from Eurail and InterRail are valid on CP (Portuguese Railways). The Lisboa Card also covers transportation on Lisbon's suburban commuter lines. If you don't have a pass or card, buy an inexpensive 4-zone ticket in Rossio Station.
By car: We don't recommend driving to Sintra from Lisbon, but if you insist on traveling by car, or if you're visiting Sintra as part of a motoring tour, use Via Michelin to plan your trip. (In Sintra, local road signs will guide you to the park and palace.)
Local transportation in Sintra: Scotturb bus 434 (Circuito de Pena) runs between the Sintra railroad station and main entrance to Pena Park. Or, if you don't mind walking, follow the marked pedestrian path to the Moorish Castle and the Park of Pena.
For more information, use the links on the next page.
Next page: Related Web sites
---
---
---