Tivoli Gardens
Page 3
Continued from page 2
More photos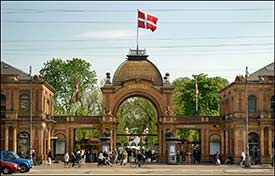 Tivoli's main entrance doesn't look mobbed in this photo, but be prepared to stand in line interminably at the ticket window during high season--unless you're carrying the Copenhagen Card, which will let you bypass the ticket line. (Just show your card to the ticket collector at the park gates.)
---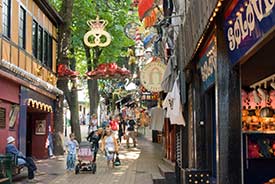 Tivoli has gardens, lakes, bandshells, fountains, and streets like these (which are hybrids of a village and an amusement park).
---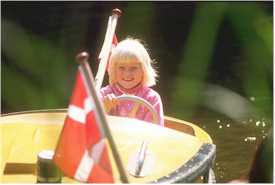 A diminutive Dane enjoys a boat ride at Tivoli.
---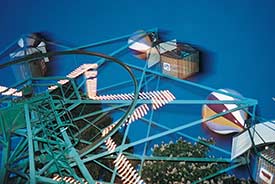 Morten Bjarnhof took this picture of a Ferris wheel whirling above Tivoli's visitors and treetops.
---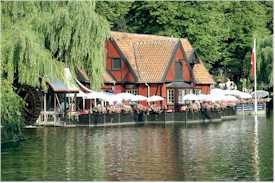 The thatched-roof restaurant Faergekroen overlooks a lake.
---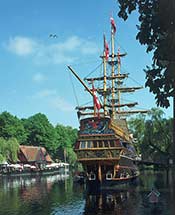 Nearby, Pirateriet--a family-friendly restaurant with a pirate motif--serves Caribbean-themed meals on the frigate Sct. Georg IIII.
---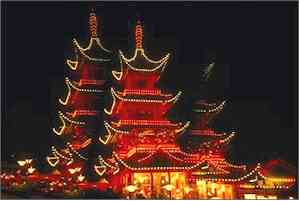 The Chinese Tower is another restaurant on Tivoli Lake. It serves a Chinese buffet and Danish dishes, and its Chinese chefs come from Hong Kong.
---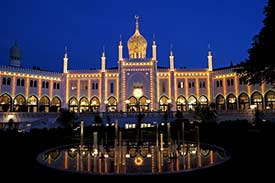 Nimb, in a Moorish-themed building formerly known as The Bazaar, opened in 2008 as a boutique hotel with restaurants and a bar (including a terrace restaurant in good weather).
---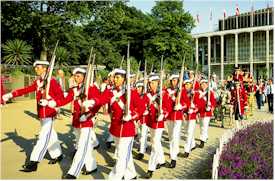 Take time out from eating and amusement rides to watch the daily Tivoli parade, featuring a children's drill team and a pint-sized version of the royal family.
Back to: Tivoli Gardens
---
---
---
Top photo copyright © Tivoli, courtesy of Visit Copenhagen.
4th photo copyright © Morten Bjarnhof for Visit Copenhagen.
6th photo copyright © Tivoli.
8th photo copyright © Nimb.