Icebar CPH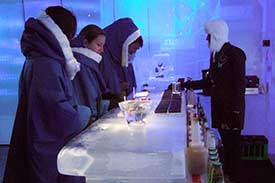 ABOVE: Customers at Copenhagen's Icebar CPH huddle around a bar that was carved from imported Torne River ice.
---
Archived article
(The Icebar is now closed.)
---
By Durant Imboden
Icebar CPH in Copenhagen, like the original Icehotel in Swedish Lapland and the Absolut Icebar Stockholm, is a saloon that gives new meaning to "on the rocks."

Like its predecessors, the bar is made with Torne River ice from Jukkasjärvi, Sweden, but Icebar CPH--which opened in April, 2009--adds a new twist in the form of fish ice sculptures, a "Pixel Wall" with animated graphics from Icehotel in Jukkasjärvi, and specially-designed LED lighting from Koninklijke Philips Electronics in the Netherlands.
If you haven't visited an ice bar, here's what to expect at Icebar CPH, which is located in Copenhagen's trendy Hotel Twentyseven:
Next, you step into an airlock that's designed to keep heat from infiltrating the Icebar, where the walls, bar, tables, and other furnishings are made from ice. (The Icebar is rebuilt every year, using a fresh shipment of ice from above the Arctic Circle.)
Once the airlock's outer door is closed, you can open the inner door and step into the bar, where you'll find a menu of cold drinks, hot drinks, and bar food. Cold drinks are served in rectangular tumblers made of arctic ice, and most of the cocktail recipes contain fruit juice, syrups, or liqueurs that make a nice splash of color when poured into the hollowed-out ice blocks.
Thanks to the bar's ambient temperature (which is slightly below freezing), most guests have only a drink or two before fleeing to the warmer environs of the Hotel Twentyseven, which also houses two warmer bars: the Honey Ryder Cocktail Lounge and The Wine Room, where you can push buttons to sample any of 40+ wine selections once you've bought a chip card.
Tip: If you have a taste for racy souvenirs, save your coins for the vending machine in the ladies' toilets, which open onto the unisex handwashing area of the Hotel Twentyseven's lavatories in the bar area. We don't know how many people actually buy sex toys from the dispenser (for one thing, who carries enough change for a DKR 115,-- love device?), but we doubt if many purchasers are tempted to use their new toys in the Icebar.
For more captioned pictures of Icebar CPH, see page 2 of this article.
Next page: More photos
---
---
---