Visiting the Alhambra
From: The Alhambra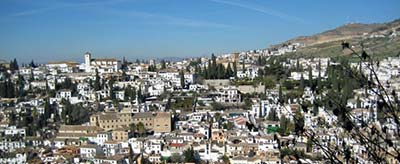 ABOVE: The city of Granada, as seen from the Alhambra.
Practical advice

The Alhambra is an extremely popular tourist destination. You may want to reserve tickets online before your visit, because only a limited number of people are admitted into the grounds each day. (See the Alhambra Web site's tickets page for more information.)
The best deal is a '"General Visit - Day" pass, which will allow you to see everything in the Alhambra, including the Generalife and Nasrid Palace. When booking your ticket, you'll pick between a morning and afternoon visit. You'll also need to choose a time slot for your entry to the Nasrid Palace, as you may only go in during the thirty-minute period that you've reserved.
To claim your paper ticket upon arrival, use the automated machines near the entrance gates to the Alhambra, which staff will guide you to. You'll need to insert the credit card that you used to purchase the ticket into the machine, which will then print out a hard copy. (To forestall problems, write down your reservation number when buying the ticket online, since an e-mail confirmation may not arrive in your inbox.)

Once you enter the Alhambra, be sure to keep your ticket with you at all times, since there are staff stationed throughout the grounds who'll scan it at the entry points to each section of the Alhambra. Without a valid ticket, you may be turned away.
Finally, to fully enjoy the Alhambra, budget at least three hours of time to explore, if not more. I spent four and a half hours and could have stayed longer--and that's coming from someone who is dying for a nap after half an hour in a museum, no matter how interesting the exhibit. There's so much to do here, and being forced out the gates without having seen the Generalife or one of the spectacular palaces would be a travesty.
Next page: Reaching the Alhambra (and Granada)
---
---
Top photo copyright © Anders Imboden.
1st inset photo photo copyright © Christina Hanck.
2nd inset photo copyright © David Mail.