Touring the Alhambra and Generalife
From: The Alhambra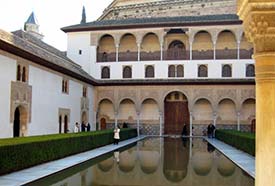 ABOVE: A reflecting pool inside the Nasrid Palace of the Alhambra.
Inside the Alhambra
Walking uphill to the entrance to the Alhambra is tiring but well worth the trouble. Follow the Cuesta de Gomérez from the Plaza Nueva in Granada's city center, which will lead you onto a path through a lush park with small streams running down either side of the walkway. The wooded path is simply a hint of what's to come at the top of the plateau.
Nasrid Palace

Once inside the Alhambra, make sure to enter the Nasrid Palace during the half-hour time slot noted on your ticket. If you miss your assigned time, you'll be unable to see this crown jewel of the Alhambra.
Describing the palace in words is difficult.

The views of Granada are unparalleled, and the decoration is ornate. An emphasis on natural beauty and symmetry is clearly on display, with elaborately patterned rooms leading into courtyards full of pools and greenery.
Palace of Charles V

Years after the Christian conquest of the Alhambra, work began on the Palace of Charles V, the Holy Roman Emperor who also claimed the title of King of Spain.
While less elaborate as its Islamic neighbors within the Alhambra, Charles' building certainly qualifies as grandiose. Its circle-within-a-square design is unique among its structural contemporaries, and even if you aren't architecturally inclined, you'll get the feeling that Charles was not one to settle for a mail-order bungalow.
Other parts of the Alhambra

Besides the palaces, the Alhambra has a number of ramparts and towers worth exploring. The Alcazaba is the old citadel, which houses the Torre de la Vela, worth climbing for its spectacular views of the surrounding city and the snow-capped Sierra Nevada mountains nearby. The Iglesia de Santa María is a bit mysterious in its understated design as well and is worth a brief visit. So long as you have a map on hand (they're free at the entrance), it's easy to see every inch of the Alhambra.
The Generalife

After exploring the many towers and palaces of the central part of the Alhambra, don't forget to visit the Generalife summer palace and gardens. Located across a small ravine, these scenic grounds are filled with orange trees looming over flower beds, symmetric fountains and pools, and trimmed hedges that line the path into the palace itself.
Though similar in many ways to its wintertime counterpart (the Nasrid Palace) the Generalife estate feels more laid back and emphasizes water and greenery even more. The views across the divide to the Alcabaza and palace areas of the fortress are impressive as well.
Next page: Practical advice for visitors
---
---
Top photo, 1st and 5th inset photos copyright © Anders Imboden.
2nd inset photo photo copyright © Christina Hanck.
3rd inset photo copyright © David Pedre.
4th inset photo photo copyright © Guillermo Perales.