Alhambra Transportation
From: The Alhambra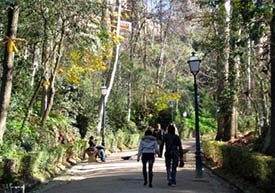 ABOVE: Walking uphill to the Alhambra.
Getting to the Alhambra from Granada
On foot: This is the most enjoyable way to get to the Alhambra, if you don't mind the steep grade. From the Plaza Nueva (the large square on Calle Reyes Católicos in the city center), simply walk uphill on Cuesta de Gomérez. Signs will lead you to the hilltop and the entrance. (If you find yourself walking downhill at any point, you're going the wrong way.)
By bus: A minibus service can take you to the entrance from the city below. This is only really advisable if you have physical concerns about the steep walk up to the Alhambra. For more details, such as stops and current prices, see the service's website here.
By taxi: Taxi journeys to the Alhambra are worth the expense only if you're afraid of being late for your Nasrid Palace entry time. If you do decide to take a cab, be sure the driver turns the meter on.
Getting to Granada
By bus: Granada's bus station is modern and clean, and services run to cities all across Spain. The trip from Madrid is about five hours and as of January 2008, cost just under €30 round-trip, and is largely a pleasant drive. The Movelia website is an excellent resource for buying bus tickets in Spain.
By train: Trains to Granada are only marginally faster than their bus equivalents from Madrid and many other Spanish cities, and cost more as well. Consult the Renfe website for availability and current prices.
By plane: Granada's airport, Federico García Lorca Granada-Jaen (code: GRX) is small, primarily serving the domestic market. However, some low-cost airlines such as Ryanair are offering new flights to European destinations.
By car: Highways A-44 and A-92 bring you to Granada from other Spanish cities.
Next page: Useful travel links
---
---