Alhambra Travel Links
From: The Alhambra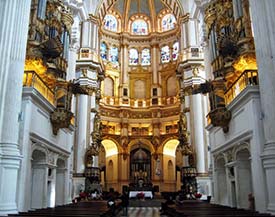 ABOVE: The interior of Granada's cathedral and its twin organs.
Tourist information
Andalucia.com: City of Granada
This site offers a variety of basic tourist information about Granada and is a useful overview of the city and province.
GranadaTur
Official tourist information from the City of Granada. (Click the site's Union Jack icon for English-language text.)
Alhambra de Granada
One of the better Alhambra information sites on the web.
Accommodations
Venere: Granada
Our discount booking partner, one of Europe's leading hotel consolidators, offers reservations at some 50 hotels, apartments, and hostels in Granada. Rates are usually lower than published prices.
Funky Backpackers Hostel Granada
I stayed at this hostel and found its staff very friendly and the rooftop view sublime. While somewhat noisy at night, the experience was generally positive. If you don't want to spring for a hotel, consider staying at this quaint hostel just a ten-minute walk from the Alhambra.
Transportation
Movelia
This should be your starting point for buying bus tickets to Granada.
Renfe
Purchase tickets, check timetables, and see availability for trains to Granada and throughout Spain.
Alhambra Bus
Information on the minibuses that serve the Alhambra from the surrounding area.
Granada Airport
Frederico Garcia Lorca Airport is 16 km or about 10 miles west of Granada. Bus timetables are tied to flight schedules.
Background reading
The Alhambra, by Washington Irving
A Web edition of the classic work from 1851 is available at no cost from the University of Adelaide Library. Enjoy it online, or download it for reading during your travels.
Back to: The Alhambra - introduction
---
---
Photo copyright © Anders Imboden.