Thalys
Page 2
Continued from page 1
By Durant Imboden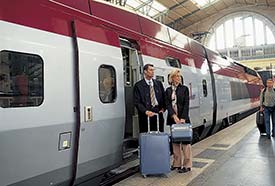 ABOVE: Travelers wait to board a Thalys train in the Gare du Nord, Paris.
Traveling on Thalys
Classes of travel
Each Thalys train has three first-clas and four second-class cars, with a bar car between the two classes. These are open carriages (no separate compartments).
Comfort 1, or first class, consists mostly of 2 + 1 seating plus a "lounge area" in one car for business meetings. Your fare also includes breakfast, lunch, dinner, or a snack (served at your seat) with hot or cold drinks. Other perks include magazines and newspapers, electric sockets, free Wi-Fi, and a taxi-reservation service.
Comfort 2, or second class, has 2 + 2 seating. Sandwiches and other snacks are available for purchase in the Thalys Bar or at your seat, and you'll need to pay for Wi-Fi Internet access (except for Thalys sites, which are free).
In both classes, each car has a handful of facing seats with tables that are convenient for families, small groups, or cardplayers. The official Thalys Web site (see link on page 3) has train diagrams with detailed seating plans.
If you're traveling with young children in Comfort 2 (second class), try to book seats in one of the "Kids' Square" compartments (cars 6, 16, 26 and 7, 17, 27). These are close to a WC and a Baby Station with changing table, washbasin, and bottle warmer in car 7, 17, or 27.
Passengers with wheelchairs can book Seat H25 in Comfort 1 car 1, 11, or 21, which has a wheelchair-accessible WC nearby.
Luggage
You're limited to three pieces of luggage, and you can store bags in three places: on luggage racks near the doors, between back-to-back seats, or in the overhead luggage racks.
Bags must be labeled or tagged for security reasons. For more details, see the official Thalys Web site (link on next page).
Tickets and seat reservations
You can buy tickets at any railroad station with an international ticket window, through European travel agencies, or--better yet--on the Internet from the Thalys Web site (see link on next page) or from our booking partner, Rail Europe, which sells point-to-point tickets and rail passes in the U.S., Canada, and the UK. (See Rail Europe USA's Thalys page.)
Rail passes
You can travel on Thalys with a rail pass from Eurail or InterRail, as long as your pass is valid for all of the countries in your journey. However, you'll need to pay a reservation fee, and seats for railpass holders are capacity-controlled. (Normally, you can reserve seats through your railpass vendor, but it's often cheaper to make reservations at the service window of a train station.)
Tip: If no seats are available or can't afford the reservation fee, see Eurailinfo's list of non-Thalys trains that cover the same routes.
Next page: Thalys Web links
---
---
---
Photo copyright © Eurail Group.