Inside the greenhouse of the Daimler Gedächtnisstätte, you can see a full-size replica of the "Grandfather Clock" engine that was patented in 1885. It consisted of an air-cooled cylinder mounted above an enclosed crankcase.

The engine weighed 60 kg (132 pounds), produced 0.5 hp at 650 rpm, and was light enough for use in a motorcycle, on a carriage, or in a small boat.
---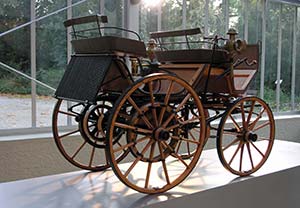 This model shows the motorized carriage that Gottlieb Daimler and Wilhelm Mayback built in 1886 (one year after Daimler's son Adolph traveled 3 km from Cannstatt to Untertürkheim, now the headquarters of Porsche, on the world's first motorcycle.)
---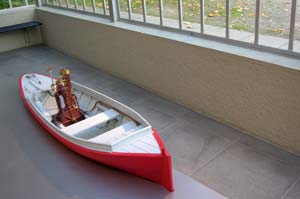 Another model depicts the world's first motorboat, the Neckar, which was built in the same year as the motorized carriage.
---
In the back room of the greenhouse and workshop, you can see the workbench where Daimler and Maybach assembled their single-cylinder gasoline engines.
The model on the workbench is of the Daimler-Maybach horizontal engine from 1883, which had an internal volume of 0.176 liter or 10.74 cubic inches, or slightly more than the engine displacement of a classic Vespa motorscooter.
---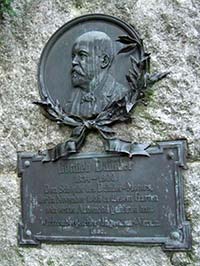 A monument near the greenhouse honors Gottlieb Daimler, whose name lives on in Daimler AG, the corporate parent of Mercedes-Benz.
Back to: Gottlieb Daimler Memorial - Page 1
---
---
---