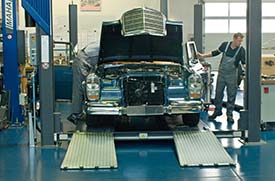 Two mechanics work on a Mercedes-Benz sedan from the 1960s at the Classic Center in Germany.
The company also has a Classic Center branch in Irvine, California. (I chatted with a German mechanic who'd worked in Irvine for a year on an exchange program.)
---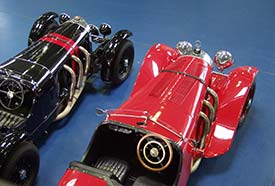 At any given moment, some cars at the Classic Center are likely to be undergoing restoration for the Mercedes-Benz Museum, which is located only a few kilometers away.
Other vehicles are restored for private collectors, for independent museums, or for sale to wealthy auto enthusiasts who visit the Classic Center's showroom.
---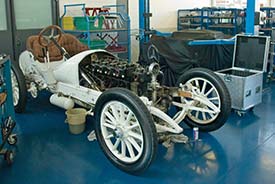 This Mercedes-Benz race car from the early years of the 20th Century was undergoing repairs during my visit.
---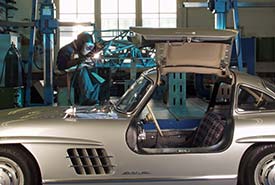 In this picture, a mechanic welds a tubular frame behind a 300SL Gullwing sports car.