Mercedes-Benz Classic Center
Page 2
Continued from page 1
By Durant Imboden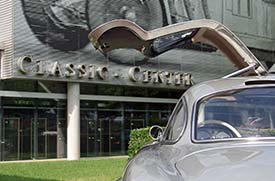 ABOVE: The open door of a Mercedes-Benz 300SL Gullwing frames the entrance of the Classic Center in Fellbach.
Visitor information
The Mercedes-Benz Classic Center is open Monday to Friday from 9 a.m. to 5 p.m. except holidays. For more information, see the Classic Center's English-language Web site and FAQ.
Note: The Classic Center has a gift shop with Mercedes-Benz car models, driving accessories, clothing, etc., so you needn't go home empty-handed if you've resisted the temptation to buy a classic car.
Directions from Stuttgart
The Classic Center is in Fellbach, a suburb of Stuttgart, not far from the Mercedes-Benz Museum. For detailed directions (including a map), click here.
The Classic Center on the Web:
Mercedes-Benz Classic
Learn about Mercedes-Benz heritage and click "Mercedes-Benz Classic Center" for information about "the world's most important rendezvous for enthusiasts and owners of classic cars." (If you're shopping for a classic Mercedez-Benz or parts in the USA, try the Classic Center in Irvine, California.)
For more captioned pictures of the Mercedes-Benz Classic Center in Fellbach, continue to page 3 of this article.