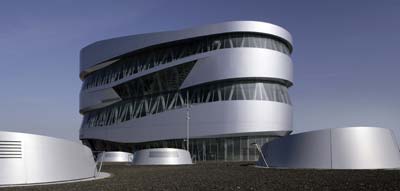 The Mercedes-Benz Museum opened in May, 2006. Its innovative design uses techniques that were developed for bridge-building.
---

Elevators climb the concrete walls of the museum's atrium. Automotive movie clips are projected during the ride up, giving you a foretaste of the Mercedes-Benz Museum experience.
---

From the museum's eighth or top floor, you can walk down ramps that give a choice of two tour routes: the "Legend" route (showing the development of the autombile) and the "Collection Route" (with vehicles and other exhibits grouped by function).
---

These two vehicles are from the Legend 1 collection, "Pioneers -- The Invention of the Autombile, 1886 to 1900." The two cars in the photo are Karl Benz's "Velo" (1894) and the earlier Benz Patent Motorwagen (1886).
---

Vehicles on display range from sports and passenger cars to trucks and buses (among them, the Bundesrepublik Deutschland Weltmeisterschaft football-team bus behind the vintage roadster in the picture above).
---
Mercedes-Benz has a long racing tradition, and race cars from different eras are displayed on a simulated track.