VW Phaeton Factory Photos
From: Volkswagen's 'Transparent Factory,' Dresden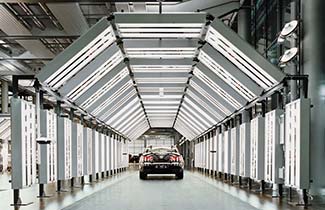 After final assembly and preparation, each Phaeton is transferred to to the factory's glass tower, where it will await delivery or pickup.
Random but interesting facts about the Phaeton:
Body shells are robot-welded at Volkswagen's Mosel plant in Zwickau, but they're painted by hand with up to seven layers of paint.
The Phaeton with the W-12 engine has a top speed of 310 km/h, or 194 mph., but most German buyers settle for the more economical V6 Diesel version, whose top speed is a mere 240 km/h or 150 mph.
About 30 percent of Phaeton customers buy the long-wheelbase model.
In Germany, Phaeton prices range from about 64 to 170 thousand euros, depending on whether the customer orders such niceties as a refrigerator.
---
---
---
Photo copyright © Volkswagen AG.