VW Phaeton Factory Photos
From: Volkswagen's 'Transparent Factory,' Dresden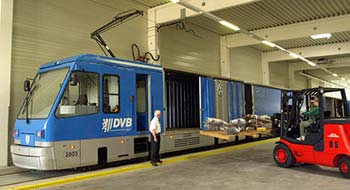 Engines and other prefabricated components arrive at the factory on two electric "CarGo" trams that were custom-built at a cost of about €1.8 million. The trams use Dresden's municipal streetcar tracks to connect VW's "just in time" logistics center in Friedrichstadt, on the outskirts of Dresden, with the Transparent Factory.
(Body shells arrive by truck from the Mosel body plant in Zwickau, because they're too big to fit on the trams.)
---
---
---
Photo copyright © Volkswagen AG.