Bach House Photos
From: Bachhaus Eisenach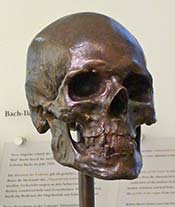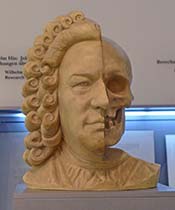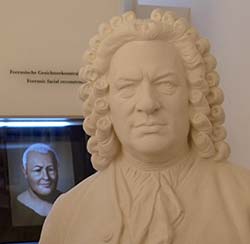 Another exhibit could be labeled "CSI: Eisenach." It shows how a team of scientists at the University of Dundee reconstructed Johann Sebastian Bach's head by using forensic techniques. (The work was commissioned by the Bachhaus Eisenach, and the team was led by forensic anthropologist Carolyn Wilkinson.)
Step 1: The scientists scanned a bronze cast of Bach's skull that had been made in the 1800s.
Step 2: Next, the team used computer software to create a 3D computer portrait, muscle by muscle and layer by layer.
Step 3: The scientists made a rubber mold of the bronze skuill casting. From that, they cast a new replica of the composer's skull.
Step 3: A sculptor formed a layer of clay "flesh" over the replica skull, using the 3D computer portrait as a guide.
Step 4: The team produced a resin bust of Johann Sebastian Bach with eyes, painted eyebrows and lips, a wig, and other realistic touches.
For more about the project, including pictures of the finished work, see the "Bach Bust" page at Bach-Cantatas.com.
---
---
---
---
---