Eisenach Hotels and Restaurants
From: Eisenach, Germany
By Durant Imboden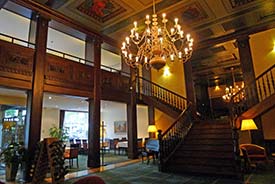 ABOVE: The paneled lobby of the Steigenberger Hotel Thüringer Hof, where Leo Tolstoy stayed in 1857.
Hotels

I've stayed in only one Eisenach hotel, the Steigenberger Hotel Thüringer Hof (which is conveniently located next to the Luther Monument on Karlsplatz, within easy walking distance of both the Markt and the railroad station). The Thüringer Hof is a comfortable four-star hotel with a long history, and it's popular with German business and leisure travelers. For more information, see my illustrated Steigenberger Hotel Thüringer Hof review.
Other mid- to upper-range hotels include the Schlosshotel Eisenach (next to the Luther House), the Eisenacher Hof with its Lutherstuben medieval restaurant (see below), the Hotel Kaiserhof (with free Wi-Fi in all rooms), and the Hotel auf der Wartburg (a 53-room luxury hotel at Wartburg Castle, which is on a forested hilltop outside of town).
Lower down the price scale, the City Hotel offers good value, with 22 rooms and apartments for one to four persons and a location near the train station. The Eisenach "Artur Becker" Youth Hostel is even cheaper, with rooms that range from twins to six-bedded mini-dorms. (It's at the southern edge of town, at the foot of the Wartburg.)
For more places to stay, consult the tourist office's "Accommodation" pages or Eisenach Online's listings of hotels, apartments, and private rooms.
Restaurants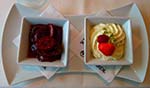 In Germany, hotels often have some of the better kitchens in town, and the Steigenberger Hotel Thüringer Hof more than met my expectations when I lunched and later dined in its restaurant.

I also had fun (and a hearty traditional meal) in the Lutherstuben of the Hotel Eisenacher Hof, where the decor and menu are have a 16th Century Martin Luther theme.
I haven't dined in the Gewölberestaurant Brunnenkeller, but the restaurant's vaulted cellars and terrace on the Markt sound appealing, and the kitchen has won awards for its reasonably-priced German cuisine.
For more restaurant, café, and bar listings, see the Eisenach tourist office's Gastronomy pages.
Finally, no trip to Germany is complete without at least one visit to a Döner Kebab shop, such as the stores listed at Doenerfreund.de: Eisenach.