Eisenach Photos
From: Eisenach, Germany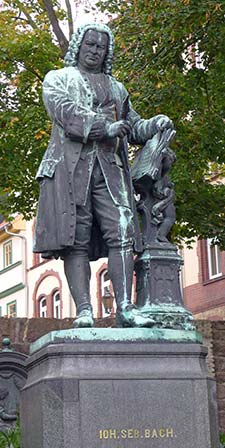 Bach Memorial (Bachdenkmal)
Johann Sebastian Bach has his own statue in Eisenach: The Bachdenkmal, which is next door to the Bachhaus Eisenach museum on the Frauenplan.
The bronze statue was designed by Adolf von Donndorf in 1885. It originally stood outside the Georgenkirche but was moved to its current location in 1938.
Bach was a local boy, having been born on March 31, 1685 to a family of professional instrumentalists, composers, and conductors. His father, Johann Ambrosius Bach, was director of the Stadtpfeifer or Town Pipers, the musicians' guild in Eisenach.
---
---
---
---
---