Freiburg Photos
From: Freiburg im Breisgau, Germany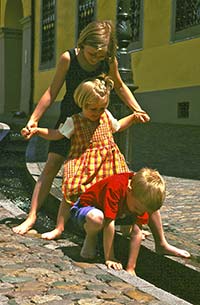 Watch your feet when you're walking in the Altstadt: The streets are lined with Bächle, or water channels. These have existed in Freiburg since medieval times, and no one can say for sure why they existed. They may have been created for fire protection, to carry away sewage, or even to provide cooling in summer. (They're also a handy place to anchor duck decoys if you're a shopkeeper with a sense of humor.)
Many of the Bächle were paved over in modern times, but when Freiburg converted most of the Altstadt into a pedestrian zone in the 1970s and 1980s, the Bächle were reopened.
Some of the Bächle are covered with wooden planks during special events, such as the Christmas Market and wine festivals, when visitors are more likely to fall into the Bächle and get hurt or soaked. (We saw a young man step into the water on a December day in the Münsterplatz; his foot emerged wet but unhurt.)
---
---
---
Top photo copyright © FTWM.