Zugspitze
Page 4
Continued from page 3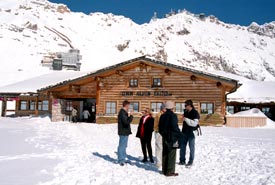 ABOVE: The Sonn Alpin restaurant is open year-round for breakfast, lunch, and snacks.
Restaurants
The Sonn Alpin (see photo) is the largest restaurant on the Zugspitze, with 350 seats at indoor tables and room for another 800 guests on the sun terrace. Its self-service restaurant dishes up generous portions of tasty food at reasonable prices. (We can recommend the Wienerschnitzel with pommes frites, and the berry crumb cake is delightful.) The Sonn Alpin is located at the edge of a glacier on the Zugspitzplatt or Zugspitze Plateau, where it adjoins the mountain station of the cogwheel railway.
Two cablecars lead to the summit ridge: The Seilbahn-Eibsee from Eibsee, in the valley; and the Gletscherbahn from the Zugspitzplatt station of the cogwheel railway. When you reach the top, you'll find the Gipfelstüberl restaurant and--for light snacks--the Panorama-Bistro in the exhibition gallery.
Finally, the German Alpine Club's Münchner Haus serves drinks and meals in a cozy 19th Century mountain hut on the summit ridge. In good weather, you can eat outdoors. (See this article's Zugspitze hotels page for a photo and Web link.)