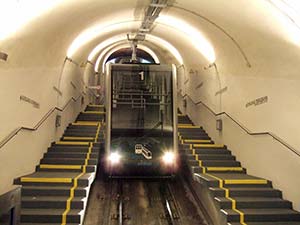 A modern funicular car arrives in the lower station of the Heidelberger Bergbahn. (Cars run underground between Kornmarkt, in the Altstadt, and the Schloss or castle on the hill overlooking the old town.)
Like other underground funiculars around the world, the Heidelberger Bergbahn's tunnel and subterranean funicular were closed and completely rebuilt after the Gletscherbahn Kaprun 2 funicular fire in Austria killed 155 people on November 11, 2000. The new funicular opened in 2005, making it both the oldest and most modern of Germany's funicular systems.
---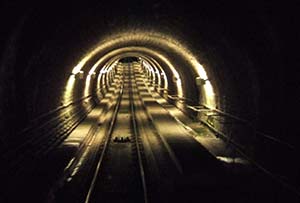 This nighttime picture of the funicular tunnel was taken with the camera looking downhill from the Schloss station toward Kornmarkt.