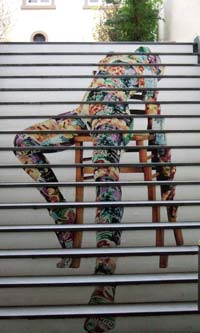 ABOVE: A nude assembled from product wrappings draws visitors up a staircase to the German Packaging Museum.
Museums

Heidelberg has a good range of museums for a city of its size--some worth visiting at any time, and others good for a rainy day.
The Kurpfälziches Museum, or Museum of the Palatinate, occupies a former palace on the Hauptstrasse. Its exhibits range from a cast of the 600,000-year-old "Heidelberg Man's" jawbone to Roman artifacts, medieval church art, and and displays that chronicle Heidelberg's role in the German Romantic movement.

A few meters up the street, the Deutsches Verpackungs-Museum is a "must see" for graphic artists and nostalgia buffs. The German Packaging Museum, which is sponsored by a long list of international companies, is filled with exhibits of consumer-product packages from the last 100+ years. The museum is located in a former church, and the staff are quite friendly. (When my wife and I visited, one gentleman took us through the entire museum, explaining each exhibit in German.)
The Universitätmuseum (University Museum) may be too specialized for the average visitor, but an inexpensive combined ticket admits you to the university's historic Alte Aula assembly hall and the Studentenkarzer or Student Prison. (The university also has a free Botanical Garden in the suburbs, which you can reach by city bus.)

When you visit the Schloss or Castle, allow time for a visit to the Deutsches Apothekenmuseum, or German Pharmacy Museum. Your ticket to the castle courtyard and the "Big Vat" (a huge wine barrel) includes admission to this fascinating medical-history museum, which is said to be the largest of its kind in the world.
Festivals

Heidelberg has a number of major festivals during the year:
In January and June, the Heidelberg Chamber Music Festival has some 20 events, including some concerts in the university's historic Alte Aula assembly hall.
In March and April, Heidelberger Frühling (a.k.a. Spring in Heidelberg) offers a series of orchestral, string-quartet, and lieder concerts in halls and other venues around town.
June also brings the Heidelberg Days of Church Music, followed by the Heidelberger Schlossfestspiele (Heidelberg Castle Festival), which runs from late June through early August and includes a long list of theatrical performances, concerts, Lieder evenings, film showings, and other cultural events.

The Schloss is also the focus of Castle Illuminations in June, July, and September, when floodlights and fireworks offer spectacular views from the Altstadt and the promenades along the northern banks of the Neckar River.