Heidelberg Tourist Information
From: Heidelberg, Germany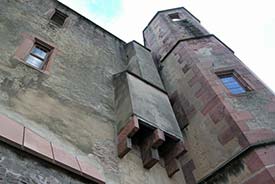 ABOVE: Public toilets have come a long way since this outhouse was built onto a wall of the Schloss.
Tourist information
On this article's sightseeing and tours page, we mentioned two guidebooks, Castle and City Guide Heidelberg am Neckar and (in German) Marco Polo: Heidelberg.

Another useful little German-language book is Heidelberg: Kleiner Führer der Stadt Heidelberg, which costs only a few euros, fits into a pocket, has an easy-to-read centerfold map of the city center, and covers the major sights.
On the Web, your most complete source of tourist information for Heidelberg is the official English-language Web site of Heidelberg Marketing, a.k.a. the Heidelberg tourist office.
Also see the Heidelberg pages at Historic Highlights of Germany and, for regional travel, the multilingual Baden-Württemberg state tourism site.