---
Nuremberg Cruise Port Directions
Page 2
Continued from Page 1
From Nuremberg Airport to your ship: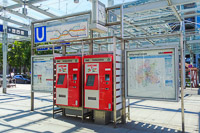 After you've collected your luggage at Nuremberg Airport, follow the "U" signs to the U-Bahn station in front of the terminal.
Before going downstairs to the trains, buy a single-trip ticket from the multilingual vending machines.
(Don't bother with the station search on the machine--just pick the standard "Preisstufe A" or "Tarifstufe A" fare, which is good within Nuremberg's urban area)
For more information on U-Bahn, tram, and bus travel in Nuremberg (including an interactive journey planner), visit www.vag.de/en.
---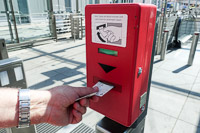 If you're using a single-journey ticket or Einzelfahrkarte, you shouldn't need to validate it (single-journey tickets are valid from 90 minutes from purchase), but stamping machines are provided for other kinds of tickets or for passengers who'd rather be safe than sorry.
---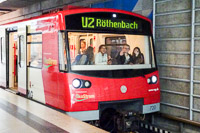 Go downstairs and board a train. (Nuremberg Flughafen/Airport is the starting point for Line U2, so a train should be waiting in the station.)
Take the train to the end of the line at Röthenbach, a journey of about 23 minutes.
At Röthenbach, transfer from the U-Bahn to Bus 67 toward Frankenstrasse, using your existing ticket.
---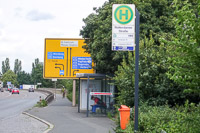 Get off the bus at Rotterdamer Strasse (the bus stop is on a bridge, with the port below alongside the Main-Danube Canal). Bus journey time is about 11 minutes.
---

Cross the bridge, passing the large yellow traffic sign just beyond the bus stop.
(You'll see a reference to the cruise terminal at the bottom of the sign.)
---

This panoramic photo shows a view of the cruise port from the bridge, with the curving road that leads down to the waterfront.
---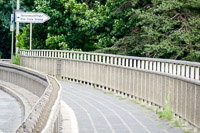 At the end of the bridge, turn right after the white "Personenschifffahrt / River Cruise Terminal" arrow sign and follow the road downhill.
---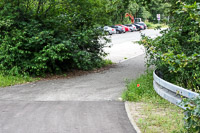 You'll pass a parking lot and a sign directing you to the waterfront, which is just around the bend.
(The grade is gentle, so you shouldn't have any problem rolling your suitcase.)
---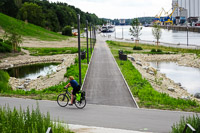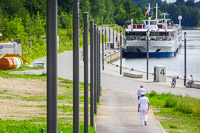 The road or adjacent paths will lead you to the waterfront, where ships are at numbered berths.
---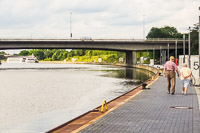 If your ship is at berth 6 to 10, walk toward the higher-numbered markers when you reach the waterfront.
(The highest-numbered berths are beyond the bridge.)
---
If your ship isn't ready to receive you, not to worry:
You can have a snack and a beer at Uschis Treff, which is located just above the waterfront pedestrian and bike paths.
Next page: From Nuremberg's city center to your ship
---
---
---